Patchworx℠
Monthly Software Security Patching.
Alvaka Networks Patchworx℠ is an Advanced Patch Management Solution for managed networks and controlled IT Infrastructures.
Learn more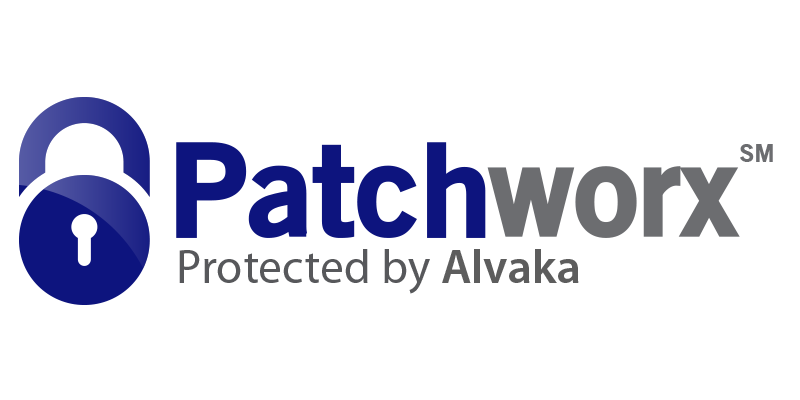 Besides the human factor, the top security threat facing companies today is un-patched systems! We offer a fixed cost, advanced system for patching your computers.
Realize the power of our Patchworx℠ Advanced Patch Management Solution!
Why Patchworx?
Achieve Patch Compliance Assurance
Patchworx supported machines are inventoried by checking for Patch implementation, actually verifying the patch was properly installed. This means no false positives like you get with Windows Update!
Mobile-User Enabled
Another major security threat is that seldom utilized laptop that does not get updated. With Patchworx, this problem is eliminated through advanced agent technology.
Built-in Security for Secure Download
An agent is installed on the machine and it "dials home" as outbound traffic to receive any needed patches. We don't need a constant line into your network to deliver Patchworx!
Built-in Desktop Hardware and Software Inventory
Upon request, we can generate inventory reports of hardware and software on each machine covered by Patchworx. These reports can help to ensure that each machine is receiving appropriate patches, and can be generated for your own inventory uses. This is a great way to spot rouge applications and to assist you in BSA/License compliance.
And End-Users Can't Mess With It!
End-users cannot stop, interrupt, or cancel the service from their local desktop. This ensures that the system is getting patched.
"What Are The Risks of Unpatched Network Systems?"
Your browser does not support the audio element.
"What is Patch Management?"
Your browser does not support the audio element.
"How Is Patch Management Deployed?"
Your browser does not support the audio element.
"How Critical Is It to Keep Network Systems Patched?"
Your browser does not support the audio element.
Latest Patch Management Related Blogs
Do You Need Help Right NOW?
We guarantee we will answer with a live person 24 hours a day.