Ransomware Recovery & Prevention Services
Alvaka Networks' Cybersecurity Solutions are designed to protect your company's systems from Ransomware and other cyber incidents, and to assist in recovery when necessary. If you need immediate help, call us now at (949)428-5001.
7 Frequently Asked Questions After a Ransomware Attack
1. What are the steps to recover from a ransomware attack?
Ransomware attacks are becoming increasingly common, and whether you are a small, medium, or large company, you are a target.
If you have been an unfortunate victim of a ransomware attack, you are likely overwhelmed and wondering what the next steps are. We have been involved in many recovery efforts and have outlined what our clients experience as the most common and important steps when recovering from a ransomware attack.
The process will be lengthy, expensive, and stressful but putting together a well-rounded recovery and response team will be invaluable. In the initial stages, engage a lawyer and find out what insurance covers. Have your response team assess the current situation (identify type of ransomware and damages) and start collecting forensic data. Decide if you will pay the ransom and/or if you will hire a negotiator that specializes in ransomware. Keep the attack confidential while you lay out your plan…continue to review the plan with your team…and then execute with vigor. You will then need to develop and implement a cybersecurity strategy moving forward and make this a consistent part of your overall business strategy. To read a more detailed explanation of the steps, click HERE.
2. How long will it take to recover from a ransomware attack?
The time it takes to recover from a ransomware attack can vary widely. For most companies who are unprepared and unexperienced, recovery efforts will typically fall between the two to four week mark. However, recovery time can be cut in half (about one to two weeks) if you have a well-managed effort and experienced team.
Prolonged recovery efforts are a result of many factors, and often come at the expense of the company's bottom line and reputation. In some cases, the company may never recover. It is therefore crucial to consider all of the variables that can impact the time it takes to recover from an attack. Below are five variables we find to have the most influence.
1. The most important is having a well-coordinated and experienced team of experts (includes ransomware recovery team, insurance company, incident response team, lawyers, ransomware negotiator, etc.)
2. Type of ransomware and the experience level of the attackers.
3. Size of your IT infrastructure.
4. Configuration of your It infrastructure before the attack.
5. The experience level, maturity, and size of your IT team.
If you would like to read the full blog, click HERE.
3. What will it cost to recover from a ransomware attack?
If your company has been hit with ransomware, you might be wondering how much the incident will cost you. There are many variables that will determine your costs, including company size, the complexity of your network and applications, and which ransomware you have been infected with. There are two cost categories to consider: Cost to Recover and Total Cost of Ransomware Recovery (TCRR).
The Cost to Recover includes the amount of cash you will need to pay out for recovery activities like incident response, decryption and system recovery, forensics, and the ransom amount paid (if any). The Total Cost of Ransomware Recovery (TCRR) will also include the lost revenue associated with the incident, due to downtime, brand reputation, etc. Your downtime will vary depending on the specifics of your attack.
We have created a Ransomware Recovery Cost Calculator that will help you determine your estimated TCRR.

4. Will I get my data back if I pay the ransomware demand?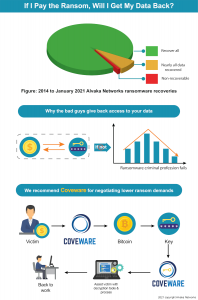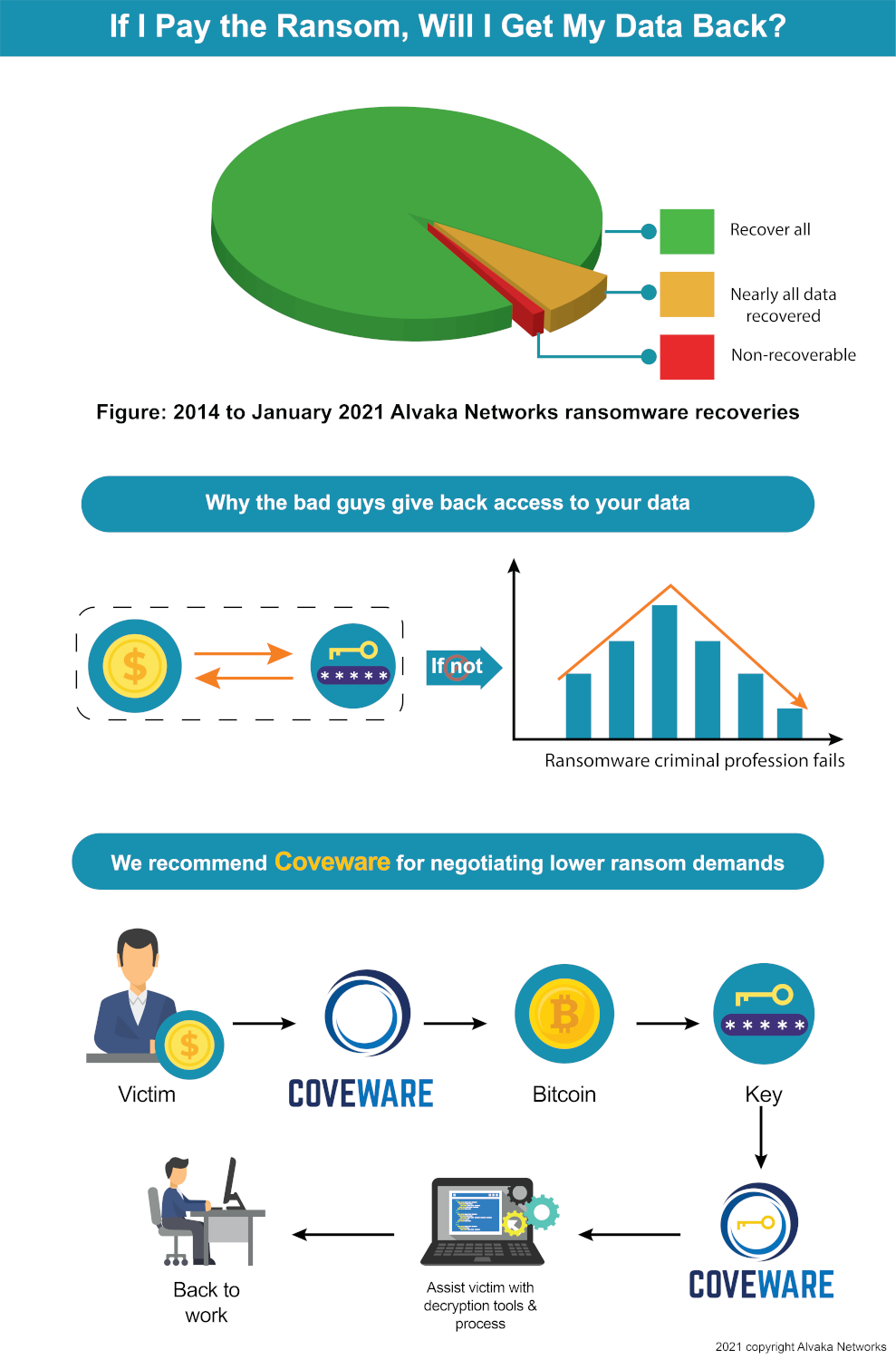 With any ransomware incident, you are dealing with criminals who will not hesitate to harm you further to receive payment out of you.
Additionally, the odds aren't in your favor if your backups are outdated – like most ransomware victims. So, you are wondering, should I trust the word of these cybercriminals? No, you shouldn't. However, these threat actors have a reputation they must maintain. If the cybercriminal industry is known for having individuals that don't provide a decryption key when paid, well, then their leverage factor gets significantly reduced. No one would pay a ransom knowing that the most likely scenario will be they get scammed. These cybercriminals are making too much money, and they wouldn't risk ruining that. Now, that doesn't mean there have been zero instances where a cybercriminal didn't provide a decryption key. Therefore, if you decide to pay a ransom, we recommend Coveware for the negotiation process.
If you would like to read the full blog, click HERE.
5. What is the average ransomware demand amount?
Each ransom attack can vary significantly, so it quite difficult to pinpoint the exact amount of a typically demanded in ransomware cases. However, history shows a clear trend – an increasing ransom amount. In the early years, a $200M per year company would only expect a ransom of a few hundred dollars.
By 2018, threat actors became more efficient and created in-depth plans, allowing them to price a ransom proportionally with a company's size. In 2020, a typical ransom for a company producing $20M annually would receive a ransom amount of $50-100k. By the end of the year, ransoms were pushing themselves into the millions, and in November, we saw our first $20M ransom.
Overall, the ransom amount depends on many factors, like what tools the threat actors are using, number of servers, number of files, total storage, and more. Additionally, according to a report by Coveware, ransom payments are increasing (see Ransomware will likely get worse in 2021), and findings show that the typical ransom amount has risen 31% to $233,817, as of late 2020.
If you would like to read a detailed explanation regarding this subject, click HERE.
6. Who are the best companies for ransomware recovery?
Alvaka Networks has been involved in many recovery efforts and have first-hand experience working with companies that offer specific services when it comes to recovering from ransomware. The ransomware recovery process is complex and will require building a response team specific to your ransomware incident in order to be successful in your efforts.
Ransomware recovery service companies fall into three primary categories:
Ransomware negotiation/decryption
Incident response/containment
Ransomware recovery/IT system rebuilding and recovery
It is unlikely you will find one ransomware recovery service company that offers the full stack of recovery services you need, so you will need to determine what you need and choose accordingly. Here are our recommendations for the Best Ransomware Recovery Services Companies.
7. Who are the best ransomware lawyers and cyber breach coaches to engage after a cyber attack?
Another crucial addition to your ransomware recovery response team should include a ransomware or cyber breach lawyer, usually specializing in ransomware, data exfiltration and phishing related business email compromise. They will be your trusted advisor throughout your ransomware and cyber breach recovery journey. A ransomware attack does not just cause a dire technical and business issue, but in many cases it can be a legal issue as well.
A ransomware and cyber breach lawyer will:
engage and manage all parties involved in the recovery process
provide important legal protections via attorney client privilege
ensure compliance with the law
help minimize and manage aftermath of a data compromise
and much more
Based on our experience, we have provided a list of recommendations for the Best Ransomware and Cyber Breach Lawyers.
Don't be a victim of Ransomware!
Maybe you think that you're not in any danger and that you take all the necessary precautions. Maybe you believe that you've educated your employees enough on the risks of random downloads, clicking on unsecured links, and opening strange emails. Think again. All it takes is one single click, and your entire network can be infected. This could cost your company thousands of dollars in ransom, time wasted recovering data, and may even lead to lawsuits.
But first, what is Ransomware?
Ransomware is a virus that infects your computer or mobile device. It can come in the form of a fake anti-virus or a clean-up software application. It can lock you out of your computer, and you will not be allowed back on until you pay some amount of money. Or worse, after attacking your device it will infiltrate it, stealing all data and encrypting every file and folder.
At Alvaka Networks, we take cybersecurity seriously. It is much easier than you think for an employee to make the mistake of opening the wrong link, and consequently infecting your company's systems and having your valuable information stolen This can cost your company money that you don't need to lose.
What we do.
We have a highly trained team standing by, and if you believe that there has been a breach in your cybersecurity, we are on it immediately. We not only figure out the best method to recover your information, but we also find out how the breach was made and apply the proper techniques to ensure that it doesn't happen again.
If your company is not secure, then it's not a matter of if, it's a matter of when you are going to be the next victim of Ransomware.
Why choose Alvaka?
We work, scanning your networks to find any weakness or places where there is a danger of infection. We then apply the latest security measures to protect against them.
We protect your company from being the victim of a Ransomware attack, that could result in loss of money, information, a halt in work, and fines that may be incurred.
We watch your system and detect any threats of phishing that may try to infiltrate it.
If your system is attacked, we have recovery solutions in place that recover all information that may be stolen. We will mitigate the damages you incur and reduce the time it takes to get your business back up and running.
We educate your employees on the dangers of ransomware and how to take precautions when online to prevent an attack, and how to keep your network safe and protected.
If you have a company, you need to protect it. Plain and simple. You'd never leave your office without locking the doors, so why would you not defend your internal system and lock it up with cybersecurity protection that works?
We believe that preventing your company from being infected with viruses should just be another essential step in security. It's not a choice; it's something that is needed to ensure that you are not at risk of losing money, time, or even worse.
We specialize in cyber breach insurance response!
We have worked with leading underwriters such as Tokio Marine and NAS CyberNET. Contact us to get more information on our cyber breach insurance response.
Do You Need Help Right Now?
We guarantee we will answer with a live person 24 hours a day.