DRworx℠
Backup & Disaster Recovery.
Alvaka Networks DRworx℠ is Enterprise Class Continuity for Managed Servers and Data Backup
Learn more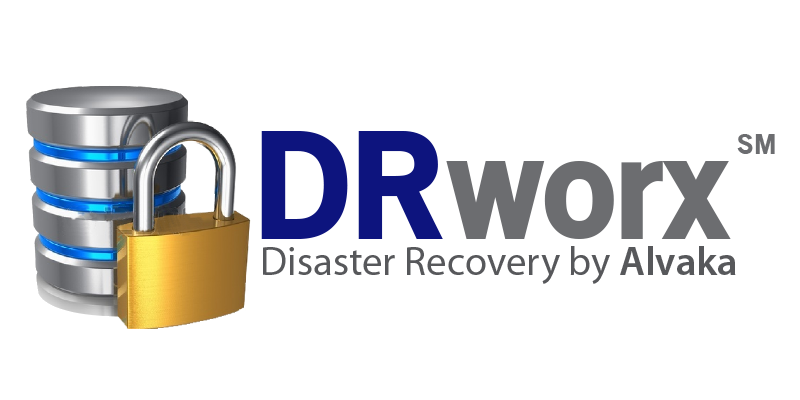 DRworx is cloud or network-attached storage for Windows Servers that comes preloaded with all backup, recovery and virtualization software you need to protect your business. It's a perfect complement or replacement to existing tape backups because of its ability to provide near-term, near-line recovery for a single file, database or mail message, up to a full on premise or cloud production server, in minutes! DRworx provides unparalleled ransomware protection and disaster recovery over tape and other cloud backup solutions.
Why DRworx?
For many IT departments, these terms are often synonymous with backing up to tape or external hard drive. But in truth, that's just a backup. If you house backup data at an off-site storage facility, then you have the start of a disaster recovery plan. At this point, most companies feel that if they can put their hands on their data, they have a degree of business continuity.
But maintaining business continuity – actually using the data to repair or recover from a problem in a short timeframe – is often an unforeseen impossibility. The penalty for extended downtime starts at lost productivity and revenue, and in extreme cases, ends when the business closes forever.
Key Features
True Turnkey Solution
Offsite Backup Protection
Backup Software
Management Software
Virtualization Hypervisor
Key Benefits
Fast recovery from ransomware attacks
Hot-site cloud recovery for major disasters
Allows simple restore of files and emails
Fully managed and supported from the AlvakaNOC
Air gapped backup for ransomware protection
Backup O365 data
Veamm cloud backup

DRworx℠ - Backup. Disaster Recovery. Business Continuity.
When compared to other backup or storage solutions, the DRworx℠ offers a unique set of features that set it apart:
15 Minute Incremental Snapshots for More Frequent Recovery Point Objectives
Total Windows Server Backup Preserves OS and Applications, not just Data
Restore systems in a fraction of the time of conventional backups
Automatic and Non-Disruptive with No Backup Windows Needed
Exchange Granular Recovery, restore down to the message level
Rapid Failover Server Virtualization, right on the DRworx appliance
Bare Metal Restore, even to dissimilar hardware
Industry Standard Encryption to keep your backups safe
Multiple Replication Schemes
Integrated Management and Reporting
Block Level Transfer for More Efficient, Reliable Backups
Individual PC Backup Capability
Protect Your Data and Your Sanity
It's time for IT departments to have an affordable solution that provides a simple, reliable and flexible way to keep their business running at full speed. That's why Alvaka Networks has created the DRworx.
For IT departments of all sizes, DRworx can be a lifesaver if there is a catastrophic server failure. But what about the day-to-day issues that have you scouring disk and tape backups for a deleted file? With DRworx, time spent goes from days and hours to minutes and seconds.
For security purposes, your data is fully encrypted. We employ the 256-bit Advanced Encryption Standard (AES) algorithm because it has never been broken and is currently considered the gold standard of encryption techniques and renders transmitted data immune to theft.
Audio Interviews
"Why Do You Need A Contingency for Your Network Systems?"


Your browser does not support the audio element.
"What Kinds of Network Risks Are Companies Dealing With?"


Your browser does not support the audio element.
"What Data Backup Options Are Available for Businesses?"


Your browser does not support the audio element.
"Disaster Recovery Systems Always Saves The Day"


Your browser does not support the audio element.
Do You Need Help Right NOW?
We guarantee we will answer with a live person 24 hours a day.