Alvaka Networks' Ransomware Solutions are designed to protect your company from an attack on your systems, and to assist in recovery when necessary.
Learn more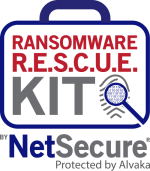 Response for Emergency Security & Comprehensive Utilities for Engineering
Alvaka's Ransomware RESCUE Kit is a device that helps to rapidly and efficiently recover and rebuild servers and workstations infected by ransomware.
Ransomware RESCUE Kit Powered by NetSecure
Alvaka Networks' Ransomware RESCUE Kit (Response for Emergency Security and Comprehensive Utilities for Engineering) is a powerful ransomware recovery device that contains the tools needed to rapidly and efficiently recover and rebuild servers and workstations that have been victimized by ransomware. The first device of its kind, only the Alvaka Ransomware RESCUE Kit provides engineers with all the powerful tools they need to comprehensively eject threat actors from your ransomed environment.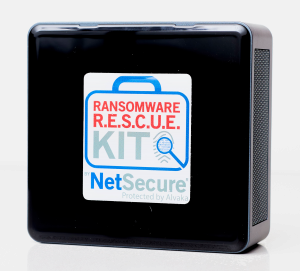 The RESCUE Kit device also includes many of Alvaka's most popular platforms, including: DRworx, which gives our engineers the ability to backup servers and configurations in the event the clients systems are inoperable; and Patchworx, which allows our engineers to quickly and efficiently patch servers and workstations from the latest vulnerabilities; and AVworx, up-to-date and managed antivirus as a service to always stay current on protection.
The device is built using the Intel NUC as the base PC, and is about the size of four decks of cards. In the case of an emergency, we will overnight the RESCUE Kit to your location.
Essential Recovery Features Include:
Powerful encryption technology to protect your data
Persistent threat monitoring technology to alert of ransomware related activities still on the network
Critical drivers and support needed to return your system to full function
Sophisticated reporting tools that unify data from many sources to create interactive and immersive dashboards
Critical Project Management and budget reporting
Virtualization software essential to rebuilding servers and PCs ransacked by ransomware
Patchworx – Block software vulnerabilities with Alvaka's powerfully fast and efficient patching service
AVworx – Up-to-date and managed Antivirus as a Service to always stay current on protection
DRworx – Cloud or network-attached storage for Windows Servers preloaded with all the backup, recovery and virtualization software you need
Special remote control software to allow for the recovery of ransomed servers, PCs and laptops
Centralized remote connection technologies, remote machine data, password management, and access control, to thwart the activities of the hackers during the recovery process
File compression utilities to free up space to allow the handling of files during the decryption and recovery processes
A professional level, but lightweight, and extensible programming plain-text editor to fix ransomware related Windows OS problems
A powerful database table editor for creating and editing Windows Installer packages and merge modules that are needed to rebuild ransomed systems
Image-Based backup and disaster recovery virtual machine hypervisor, and a native off-site replication engine, to ensure robust protection of your data during the recovery process
Tenable Nessus – An industry leading vulnerability assessment tool for measuring security remediation results
24x7x365 performance monitoring of all critical servers and devices during the stressful recovery process
Ransomware RESCUE Kit Device Specifications:
10th Gen Intel Core i7-10710U Processor, up to 4.7GHz, 6-Core, 12 thread, 12MB Cache, 25W
32 GB RAM
M.2 2 TB Primary Storage
Sata III 2 TB SSD Secondary Storage
Windows Server 2019 Std. with GUI – all ready to go for fast recovery and rebuild of your ransomed systems
Windows 10 Enterprise
Do You Need Help Right Now?
We guarantee we will answer with a live person 24 hours a day.