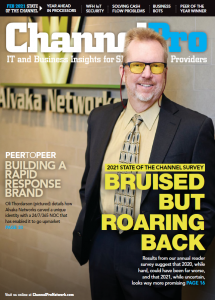 Featured on the cover of ChannelPro SMB February 2021 issue, Alvaka Networks CEO, Oli Thordarson, explains how Alvaka was able to carve a unique identity as a rapid response and recovery brand through peerless execution and a 24/7/365 all US-based recovery team.
Twenty years ago, Alvaka President and CEO, Oli Thordarson, recognized the need to carve a unique identity for himself and his team. Determined for Alvaka Networks to be remembered as a business not only capable of a rapid response, recovery, and prevention, but also one that out-competed other competitors, Oli prioritized building and staffing a 24/7/365 network operations center (NOC). This step proved to be a crucial component in continued growth, and as a result, Alvaka saw itself move upmarket.
The significant investment needed for the NOC, building a professional team, and maintaining the hardware and software, proved time-over-time to be a worthy investment. Even with the devastating financial impact of COVID-19 for many companies around the world, Alvaka Networks was able to grow revenue 14% in 2020 – a testament to the business model it implemented over many years.
Click HERE to read the full article at ChannelPro Network.