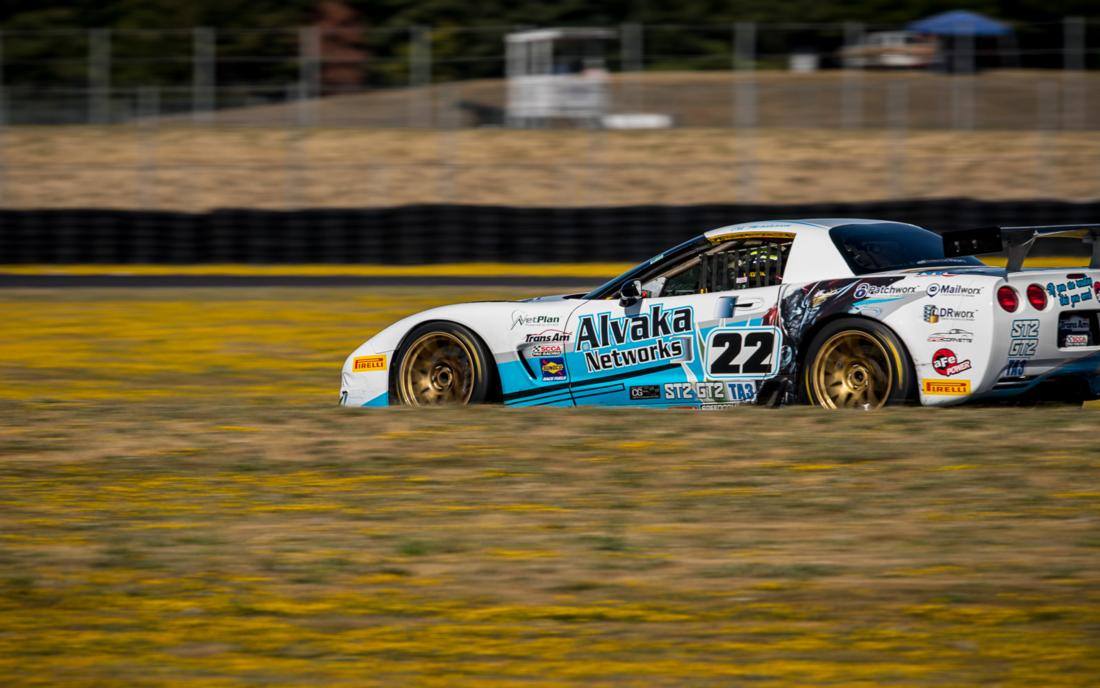 Periodically, Alvaka Networks sponsors a car driving event for clients. This type of event is often referred to as an HPDE, or High Performance Driving Event. At this event, guests participate in both classroom and on race track driving instruction. Though many people have high performance cars, there is no responsible way to explore the limits of their car on public streets. Therefore, our Speed and Feed event is a good way for our guests to get out on a race track with their car in a responsible fashion, and to drive it as fast as they feel comfortable. Guests prepare for the experience with classroom instruction and coaching—from the passenger seat of your car—by a driving instructor.
The first priority of the classroom instruction is to get guests feeling comfortable about entering and exiting the track, and learning where the circuit goes. Guests will be taught the protocols for passing—or being passed—on a race track, as cars are going at differing speeds. This will not be what is known as a wheel-to-wheel race, such as you see on TV; no one is racing against anyone. Guests will be driving at whatever limit makes them comfortable. For some, that might be going 100 MPH tops. For others, it might be 150 MPH. The driver gets to decide.
As this is a client appreciation event, Alvaka not only pays the entry fee, but we also provide instruction, required safety gear (or you can bring your own helmet), food, and pictures of the day's experience. It is truly memorable!
As suggested in the opening paragraph, guests drive their own car on the track. That is what makes this so fun, as guests get to see what their car and themselves can do. It is fun to open up the throttle and hit triple digit speeds in a controlled environment, where you don't have to worry about cross traffic and regular people driving around on the streets in an unexpected manner. Plus, you don't have to worry about reckless driving citations, or jail!
These events are highly organized. There is even a tech inspection form that guests, or their mechanic, are required to complete. Most people perform the check themselves, but for those who are not very mechanically inclined, it is a fast and easy process for a mechanic; this is a must-have at the event. Guests will need to print and fill out the form—found HERE—before the event, and bring it to check-in.
Drivers will be placed in a specific driving group based upon their track driving experience, if any. It is not necessary to have prior experience. We have driving coaches available for all participating drivers. Drivers receive a colored wristband indicating which group they are placed in; red being Advanced, purple being Intermediate, white being Beginners, etc. All drivers must check-in by 7:45 a.m., but we suggest arrival at 7:15 a.m. to begin the check-in process. Beginner drivers must be at ALL class instruction sessions in order to drive and must not arrive late and miss the classroom instruction, as each exercise builds upon the prior exercise.
In the past, some people have said they don't feel they have a proper car for a special day like this. While Alvaka is footing the bill for the event, guests can opt to rent a track car for the day. We can put those interested in touch with individuals who provide race cars for track day use. This cost typically starts at $800 for the day and goes up to $2,500, depending upon the class and speed of the car. Usually the car is brought to the track and picked up at the end of the day.
What happens when a car is driven fast on the track?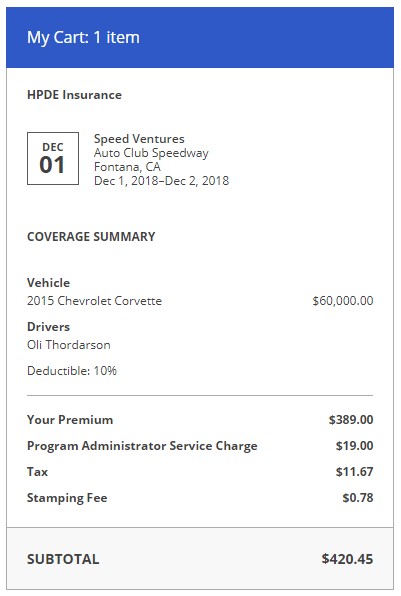 Drivers will probably only see wear in two areas: tires and brakes. First timers don't go as fast as really experienced track drivers; therefore, the wear is fairly minimal. Most drivers will be running street tires and the wear shouldn't be too bad—probably losing 2/32″ of tread. This will really depend on the driver, because if one is determined to burn up tires on the track, they can certainly do it. Regarding brakes, drivers should make sure they have at least 10mm of brake pad left. If there is any doubt whether there is enough pad left, it would be wise to change pads or buy a new set and bring them to the track. New track drivers probably won't use much pad, but it is better to have enough pad than to get there and run out of brakes halfway through the event. It is important to note that if a guest brings pads to the track, they should also know how to change them.
Car damage at the track is not very common—especially for beginners—but it can happen. There are companies that provide supplemental insurance for track day events for a reasonable price. Some companies to consider are:
The image to the right shows an example of a quote from Lockton for a $60,000 2015 Chevrolet Corvette.
The goal of the day is for everyone participating to have fun and learn to drive better. All guest drivers will learn how to find braking points, where to turn-in, hit the apex and how to track out. Driving is a career for some, and it is a tireless battle to learn how to drive better and fast. There will be people at this event who drive on the track as many as 20 days per year; they are the equivalent of ski bums in the mountains. Others just do it one time and mark the experience off of their bucket list. Most are in between somewhere. But, fair warning, it is possible to become a track addict after participating in this event. Two of Alvaka Networks' clients are now doing formal wheel-to-wheel racing with purpose-built race cars.
So, come join us for what will be a memorable track day experience…and it does take all day!
If you have any additional questions and/or want more information, visit the Speed Ventures FAQs page by clicking HERE.