Schaumburg, IL, USA (29 April 2019)—Alvaka Networks will sponsor ISACA's North America CACS Conference for information systems audit, assurance, control, governance and security professionals, taking place 13-15 May 2019 in Anaheim, CA.
Patchworx by Alvaka Networks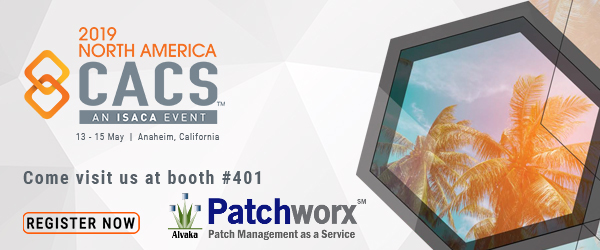 is a mature Patch Management as a Service offering. Software patching is both risky and complex, so it is often neglected by organizations. With nearly 50% of companies having experienced at least one data breach in the last few years, Alvaka's goal is to educate organizations about the crucial need for patch management and to provide a proven enterprise level solution to those organizations.
Oli Thordarson, CEO of Alvaka says, "We are at CACS 2019 because ISACA members are on the front line assessing and auditing security posture and compliance for the important companies around the globe. Many of those members are frequently frustrated by continued inadequacies of patch management results they encounter within the companies they are examining. Patchworx solves that problem by bringing a solution that gets even the most complicated environments patched to zero each month in a cost effective way, while providing the reporting ISACA members and executives need."
IT audit, risk, cybersecurity and governance professionals will gather at the Anaheim Convention Center to examine the transformational roles they play in their organizations. Attendees will learn solutions and strategies, including how assurance, risk, governance and security professionals can advance their careers and impact their enterprises. Disruptive technologies over the last 50 years and in the future of business enterprise, and the evolution of technology careers and ISACA professions, will be featured in conjunction with the ISACA anniversary year.
Alvaka is both a North American CACS Premium Sponsor, as well as an ISACA 50th Enterprise Sponsor. Attendees who want to learn about Alvaka's Patchworx Patch Management as a Service offering, visit booth 401 during the conference. You can also learn more by attending a weekly Software Patching Webinar.
This year's event offers more than 100 sessions in tracks covering:
IS Audit
Security/Cybersecurity
Risk Management
Data Analytics & Information Management
IT Governance, Compliance & COBIT
Incident Response
Third Party Management
Leadership Development & Career Management
Audit Integration & Collaboration
Industry Trends & Insights
Attendees will also have access to additional educational opportunities at pre-conference workshops, which include four two-day workshops (CSX Penetration Testing Overview, COBIT 2019 Foundation Course, Cybersecurity Audit Certificate Program, and CISA Exam Prep Course) and five one-day workshops (Building an Effective Security Program; Hands-on Technical Survey of Cybersecurity – A Primer for Auditors; Hands-on Forensics for Audit; Launching an IT Audit Analytics Program, Starting with Value-Add RPA; and Risk Management & Communication). Attendees of North America CACS can earn up to 39 continuing professional education (CPE) hours. Additional details, registration and venue information can be found at www.isaca.org/NA-CACS.
About Patchworx by Alvaka Networks
Alvaka's mature Patch Management process enables organizations to reliably patch and validate thousands of hosts. Our US-based engineers work 24×7 to ensure systems and applications are patched within defined service windows, function when returned to duty, and are documented to satisfy management and auditors. As a managed service provider of IT and network solutions, Alvaka has been providing enterprise class service since 1982, and we are uniquely positioned to ensure your mission critical business excels in the non-stop era of the 21st Century. With Alvaka, you get enhanced IT capabilities and customized support for your unique needs.
Contact Alvaka Networks:
2 Executive Cir., S/210
Irvine, CA 92614
cacs19@alvaka.net
949-428-5000
About ISACA
Now in its 50th anniversary year, ISACA® (isaca.org) is a global association helping individuals and enterprises achieve the positive potential of technology. Today's world is powered by information and technology, and ISACA equips professionals with the knowledge, credentials, education and community to advance their careers and transform their organizations. ISACA leverages the expertise of its 460,000 engaged professionals—including its 140,000 members—in information and cyber security, governance, assurance, risk and innovation, as well as its enterprise performance subsidiary, CMMI® Institute, to help advance innovation through technology. ISACA has a presence in more than 188 countries, including more than 220 chapters worldwide and offices in both the United States and China.
Twitter: www.twitter.com/ISACANews
LinkedIn: www.linkedin.com/company/isaca
Facebook: www.facebook.com/ISACAHQ
Instagram: www.instagram.com/isacanews/
Contact:
Emily Van Camp, +1.847.385.7223, communications@isaca.org
Kristen Kessinger, +1.847.660.5512, kkessinger@isaca.org