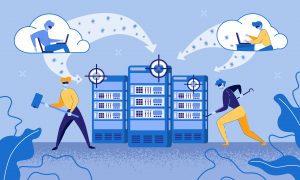 In the cat-and-mouse world of ransomware and cybersecurity, with businesses and governments needing to place two steps between them and cybercriminals, comes a new obstacle – Ransomware-as-a-Service. Dharma, a cybercriminal firm, provides, "one of the most popular offerings around, saying it provides a "paint by numbers" solution that cybercriminals have already used to extort millions of dollars from businesses." This criminal business model has been coined the "fast food of cybercrime" due to its easy and ready-to-go utilization for inexperienced threat actors. They might be inexperienced, but this ransomware service poses a serious threat to SMBs – especially during the current global situation.
The COVID-19 pandemic has forced the majority of businesses to transition towards remote-access work environments, and the scramble to adopt the new work protocols has certainly produced many security vulnerabilities. Consequently, "the use of ransomware has skyrocketed in recent months, leaving many SMBs paying hand over fist to recover sensitive or mission-critical information," additionally, "a study by Coveware, a company that specializes in helping businesses successfully navigate and recover from ransomware attacks, [shows] 85% of such attacks are made possible by poor security around remote access." However, there are ways to ensure you do not find yourself a victim such as, "enforcing strong password management and multi-factor authentication, setting up a business VPN, and providing simple but effective security training to employees at all levels." At Alvaka Networks, we have developed a simple, self-assessment test to check if your business is prepared for a remote-work environment.
More information about Alvaka's remote-work preparedness test and the test itself can be found HERE.
If you would like to read the original article on Techradar.pro go here – Dharma Ransomware-as-a-Service poses major threat to SMBs
If you have any questions or concerns, or need help, please reach out to Alvaka Networks at (877) 662-6624 or sales@alvaka.net. We operate 24x7x365 with all US based personnel.