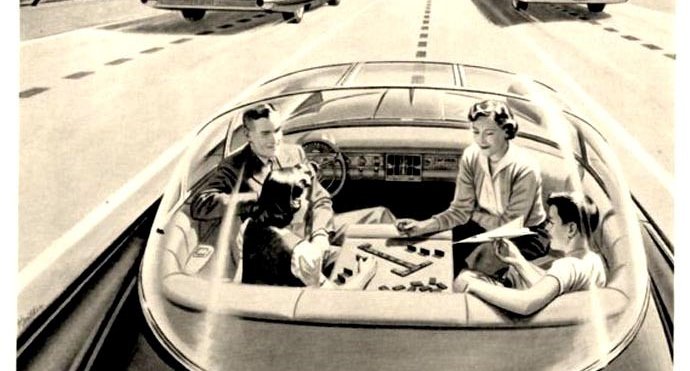 All electric and self-driving car technology fascinates me. As a race car driver, I can see that we are not too far away from the time where the computers and software will lap the car faster and better than the best human race car driver can turn a fast lap. With that said, I look to the advent of the self-driving car with a lot of suspicion. Technology is wonderful—and it can repeat work for humans fast and flawlessly—except for all the bugs and unintended consequences that come from software code and circumstances not anticipated. Hacking and malware is likely to be a problem for self-driving cars too. With all that said, I wonder what the future will hold for car racing by humans. The horse drawn carriage was done in by the advent of the car, yet horse racing persists as a popular "sport." I can say firmly that I would not want to be a 25 year old career truck driver right now. In 10-20 years that vocation will be hammered by technology in much the same way the travel agent job eviscerated 20 years ago.
Yesterday I read a fascinating article by Scott Nyquist. He is a Senior Partner at McKinsey & Company, who has led their European and America's Oil and Gas practices, and co-led the Global Energy and Materials sector and the Sustainability and Resource Productivity practice. He has also served on McKinsey's Board of Directors, as well as on the board of the McKinsey Global Institute, the firm's internal think-tank. To say he has an interest in this electric and self-driving/autonomous vehicle segment is an understatement. Reading the article, I pondered a quote from Clayton Christensen's book, The Innovator's Dilemma: The Revolutionary Book That Will Change the Way You Do Business, where I first learn about Amara's Law.  Amara's Law states very accurately, from my tech profession experience, that "we tend to overestimate the effect of a technology in the short run and underestimate the effect in the long run."
Scott's article, Why driverless cars might not hit the road so fast, is a very good read on the future of our cars, which are so much a part of our lives. I suggest you follow on below to read his column…
In May, GM spent $1 billion to buy Cruise Automation, a small startup with promising self-driving software. Last year, Qualcomm bought NXP Semiconductors for a cool $39 billion, in large part because Qualcomm wanted to buy its technology for making chips for autonomous vehicles. And in March, Intel paid $15 billion for an Israeli company, Mobileye, which makes sensors for driverless cars. 
Some of the world's richest, most innovative, and coolest companies—like Apple, Baidu, Google, Intel, Tesla, and Uber—are pouring money into autonomous vehicles (AVs) and related technologies.  Waymo, Google's project, has driverless cars on the road in four US locations, and they have collectively gone more than 3 million miles.  Intel sees a $7 trillion future for AVs by 2050.
AVs have two big advantages. While most people think they're great drivers, many are not. In the United States alone, almost 100 people a day are killed on the roads, and 94 percent of the crashes are due to human error. AVs show reliably better judgment than humans, and they never drive while texting or drinking. Second, a road full of AVs can accommodate more vehicles, because they can travel closer together, lessening the need for new roads and speeding up traffic. The latter is no small thing, considering US motorists spend more than 6.9 billion hours a year stuck in traffic.
It is no wonder, then, that people look at these trends and see a future—a very near future—of highways buzzing with super computer-enabled AVs where people are entirely dispensable (see image). A Morgan Stanley analyst in 2014, for example, saw fully-fledged driverless cars—no human intervention needed—on the road by 2019 and….
Read the rest of the story by clicking HERE.